The following email from Andrew explains an idea he has for a way to arrange earthbags into a fairly rigid, reinforced configuration. It seems interesting enough for me to post here and solicit comments from you dear readers. What do you think about this concept?
Having read the article you posted on Machu Picchu, I began thinking very seriously about seeking a fairly reliable method that might meet code approval by a somewhat comparably lenient code district, and possibly streamlining part of the tamping process.
This is in line with the comment I submitted about the no-crete (or non-crete? lol) bond beam methods. I wonder if you have tried the sketched design method attached? Could this be viable as a streamlining method?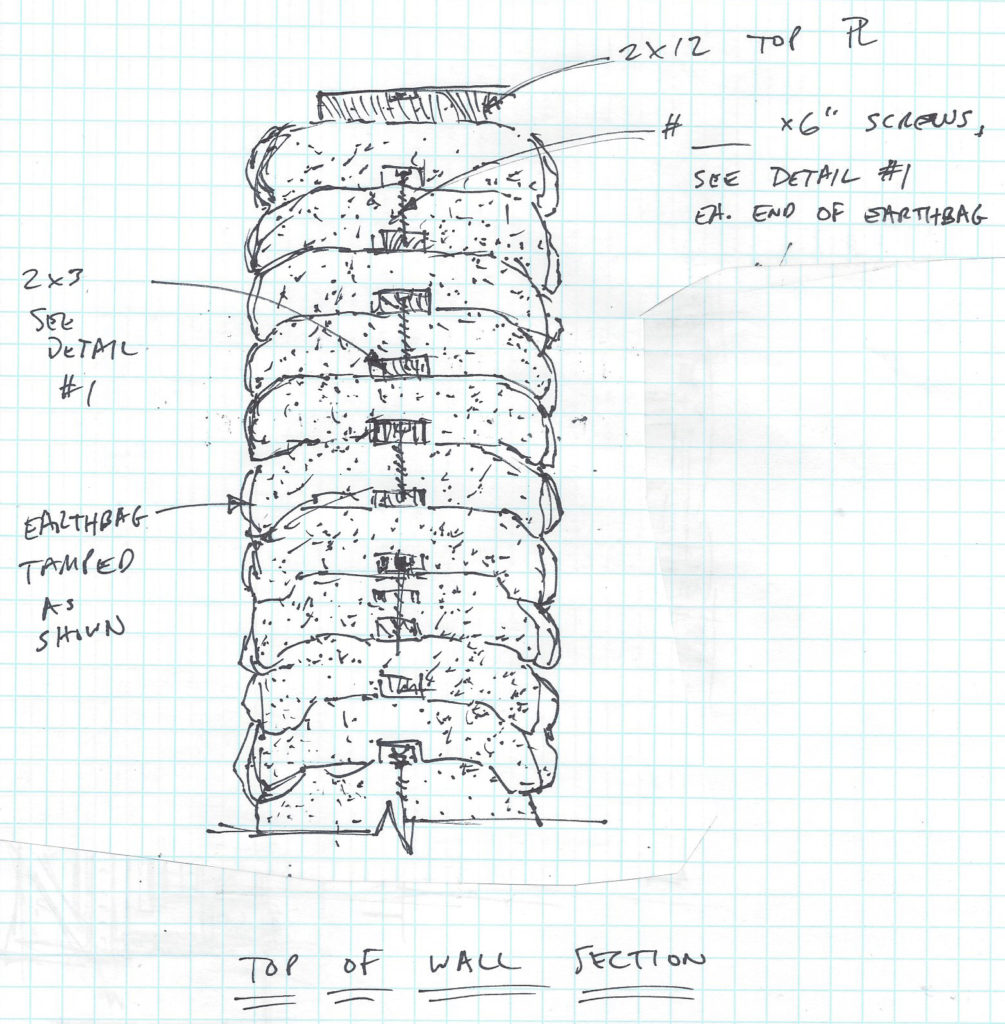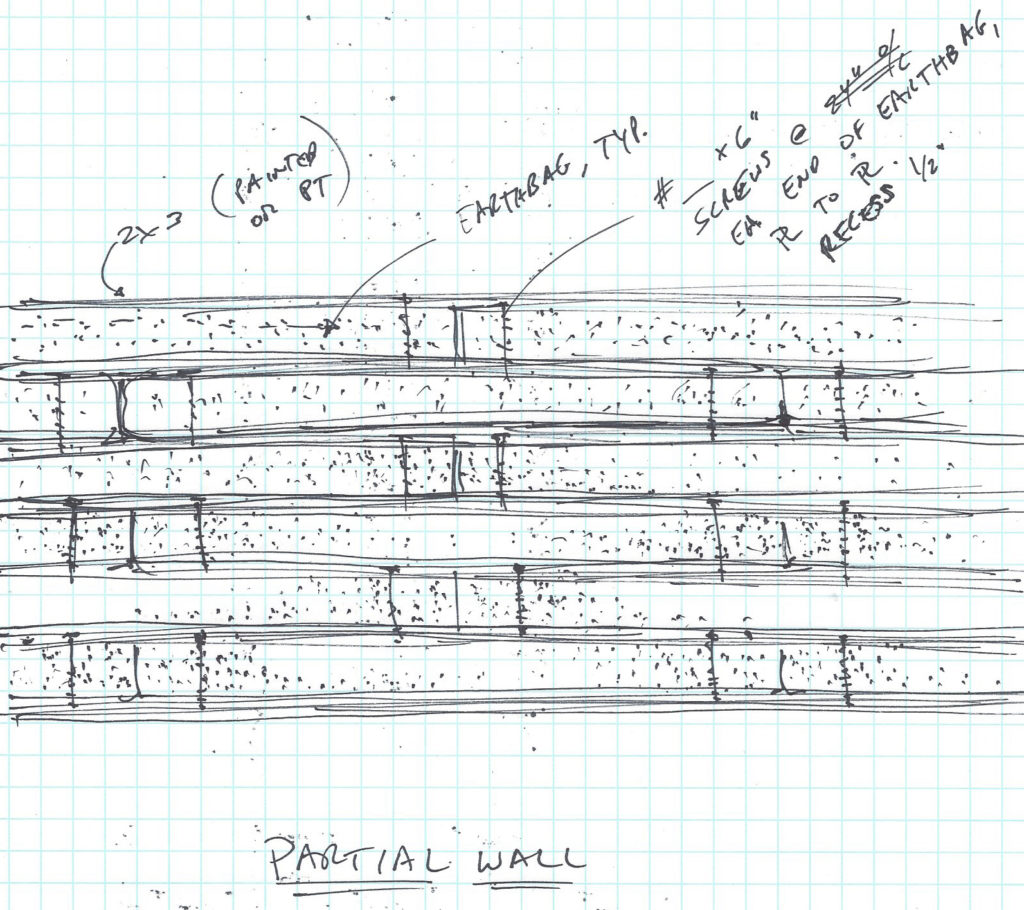 I want to use straight and right angle walls to make my first roof framing as basic as possible, and would like to drop a 2×4 / 2×3 roof rafter truss (connected to top plate at side walls and the ridge beam) to allow space for R-30 or R-45.
As I think about these sketches, the slumped shapes on the end should probably be considered an exaggeration. Main idea being just walk down the rows checking for vertical plumb and whack down on the edges wherever bags need to be trued up, they'll give and slide a bit without any barbed wire, and then lay your 2x3x8'0″ plate down and screw as shown. Then a quick tamping down either side, the bags already (hopefully) squished out to the sides a bit due to pressure from screws. Quick run down each wall face whacking in the odd lumpy spot, or checking for bags needing to be diddled. But the bags should definitely be squared off between courses to resist an unending slumping outcome.
I am primarily interested in making a transition from a 1st floor 8′ Earthbag wall to a loft and roof connection using a lot of small fasteners, without concrete. I'm considering an off-grid cabin in areas where water caching, or re-connecting a low yield well from a condemned trailer home, for example, might be the only option. For that case, if the screws cost a bit, but can be toted on the worksite in a single bag, that would make erecting a basic shell much easier in many ways. For the potential of high winds, I would like to be able to cinch the roof connection points down into something to resist lifting forces on the wide overhangs, and the nailers I've seen used on many earthbag projects without a bond beam look like they would only offer lateral resistance and rely on roof weight to keep things in place.
I may not have a good grasp on the weights involved, the reactions of earthbags and the forces that can occur during extreme earthquakes, but have thought vertical pinning down through the wall to the foundation (like a wooden sill plate to concrete, or rebar from concrete footing to concrete masonry blocks) is a good idea that engineers and code inspectors might want to see. I suppose a rolling, bouncing earthquake motion might jostle masonry or earthbags up and out of alignment, but considering the way the shapes at Machu Picchu are a bit Tetris-like, and have managed to shake back into alignment during earthquakes, many vertical threaded pins, combined with earthbag weight, might be enough to ensure the wall retains a vertical position, even if it's riding a bucking bronco.
I know that wood in direct contact with cement is a big no-no, especially for anything structural, unless the wood is pressure treated. Do you think the interior of an earthbag wall would contribute more or less to rot, once the bag has completely dried out and set? PT wood drives more cost and toxins. What about painting or staining? Could the wood be coated with lime plaster to help it stay dry?
If you have any thoughts on this, please let me know. Would enjoy some feedback if the idea seems worthy, or horribly flawed in some way I missed. lol. better before building. I definitely would like to hear other ideas from the community.
Here is my response:
This is an idea I have never seen presented before. I can imagine that it would create an extremely strong, almost monolithic wall that would resist most kinds of stresses placed upon it. The downside would be the amount of wood and special screws needed to accomplish it. But then, if compared to the standard barbed wire, rebar and concrete used to secure most earthbag wall systems, the carbon footprint and amount of work involved may be similar.
As for your question about wood rotting if embedded in an earthbag wall, I am  not sure. Pressure treated wood would certainly be the safer option, but I understand your reluctance to use it. Lime plaster can hold moisture, so that might not be a good solution. Paint might provide enough protection; stain probably would still allow moisture to migrate. But once the bag fill material dries, there shouldn't be much moisture to deal with. This concept would take some testing and experimenting to refine.