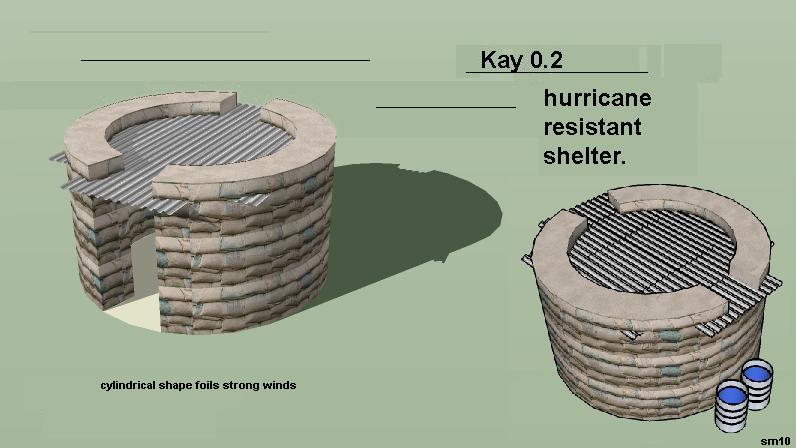 Here's a great shelter design by Delani that was posted at Core 77 as part of a recent shelter competition.
Sometimes the best ideas are the simplest, and this design is exquisite because of its simplicity. That means it's inexpensive and easy to build. And no doubt about it, it will work structurally. (However, it remains to be seen if these shelters would be culturally accepted.)
Here's the description from the Core 77 website:
Kay 0.2 (Kay means house in kreyol) is a rapidly deployable, easy to build shelter that can protect occupants from a cat 5 hurricane. Construction specs: sandbags are stacked in a circular shape to form a cylinder with inside diameter of 8 feet with a height of 10 feet. A roof of corrugated steel placed atop the wall at 8 feet height then 2 feet of sandbags are added on with a scupper to catch rain into 55 gallon drums in back.
Comments: I would slightly taper one course of bags just below the metal roofing so water will drain freely toward the rain barrels. Add rafters perpendicular to metal roofing. (No purlins necessary.) Windows and other design features could be added as desired. Tip of the hat to Delani for this exceptional design.