Long derided as old-fashioned symbols of grinding poverty, mud and straw houses are making a comeback in Hungary as a low-cost, eco-friendly alternative to concrete. Master builder Janos Gaspar, who renovates earth houses, says, "I'm booked up for three years. Interest is sky-high." He has built more than 200 clay houses.
Locally accessible materials is the basis of what architect Adam Bihari calls "natural architecture". "Hungarians knew how to build houses from what they had to hand or under their feet," said Bihari as a clay brick wall was plastered with mud. "This wall was made 100 years ago, and should be around for another 100."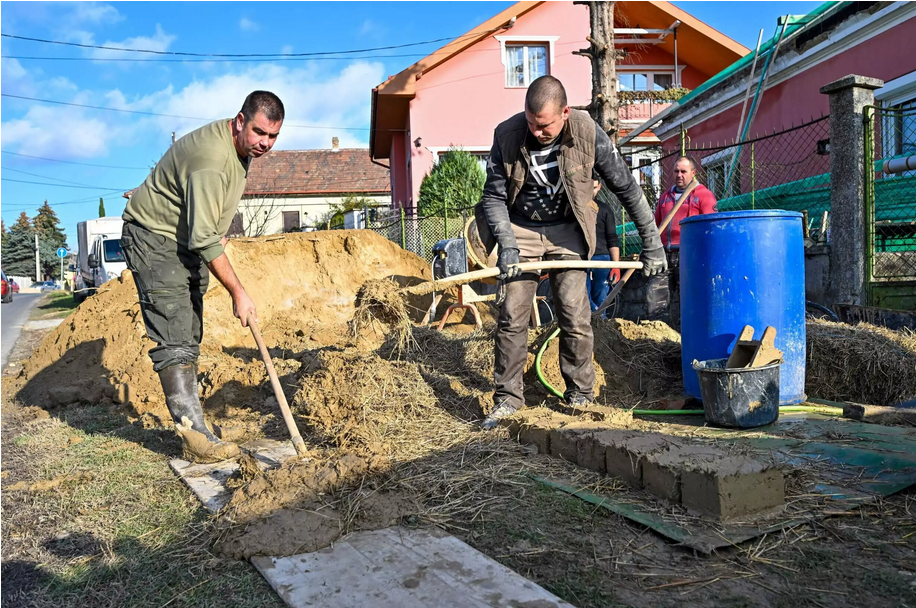 With Gaspar, Bihari teaches his methods to scores of trainees every year. In the yard beside piles of sandy earth and straw, a dozen watched Gaspar demonstrate how to make mud bricks. "This type of soil is perfect, and it's found everywhere around Hungary," said Gaspar as a cement mixer churned the ingredients. "You can make one brick a minute, and around 20,000 will make a house," he told the group while kneading handfuls of the mixture into a wooden mold.
The centuries-old practice fell out of fashion during the country's four-decade-long communist era. "Folk traditions were officially frowned upon and modern materials took over," said Bihari.
More than one in seven Hungarians still live in earth-built homes, mostly in villages in poorer regions. Bihari said it is hard to counter long-held associations with damp and poverty.
Clay's thermal properties make it ideal for Hungary's fluctuating climate of hot summers and cold winters. One of the camp participants who already owns a clay house but wants to learn how to renovate it, said her building is naturally warm in winter and cool in summer. "Amazed visitors ask us where the air conditioning is, but there is none," she said.
Earth homes also regulate their own humidity, said Bihari, which can help people with asthmatic problems. They are also fireproof and non-toxic.
"You hear about 'smart' houses and even smart bricks," said Bihari. "But for me that is nonsense… clay is naturally smart."
Rising energy costs is another push factor behind the growing popularity of earth houses. Several of the trainees can no longer afford to build or buy conventional houses. "My wife and I are interested in cheaper solutions like this, it's a bonus that it's good for the environment," said one ofo the trainees.
You can read the original article at www.france24.com