A 2 bedrooms, 1 bathroom house designed and built by Dr. Tom Marsik and Kristin Donaldson of University of Alaska in Dillingham, Alaska earned World Record Academy's "2021 Green House of the Year" honor, after setting the world record for being the World's Tightest Residential Building.
"The main purpose of this world record is to help bring attention to energy efficient buildings and efficiency in general," Dr. Tom Marsik said.  "I believe energy is one of the most important issues in today's world and energy efficiency is a key part of the solution. The more awareness we can raise, the more people will be encouraged to save energy and resources for future generations." His wife, Kristin Donaldson, added that "an important part of the solution is not just technology, but lifestyle choice. Our small but cozy home is a reflection of this choice."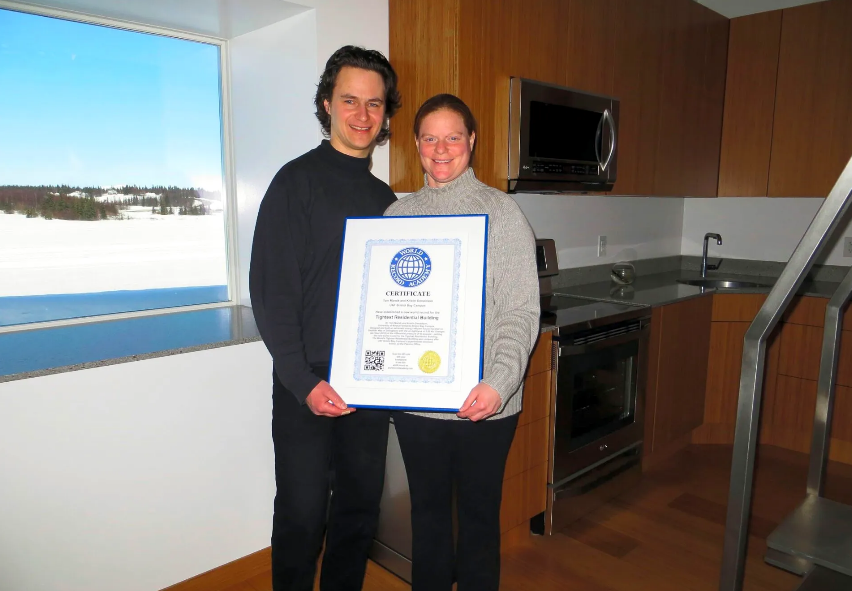 Most of the heat comes from passive solar gain and byproduct heat from appliances and bodies inside. Marsik says the "passive house" is "net zero energy ready." Marsik and Donaldson's house is not just extremely tight, it is also extremely well insulated, with 28″ thick walls.
Dillingham has a typical subarctic climate, relatively average by Alaskan standards. Summers are mild and rainy with cool nights. Winters are long, cold, and very snowy.
Marsik stresses that 'airtight' doesn't mean 'stifling'. The home is equipped with a heat recovery vent that exchanges the stale air inside with fresh air from outside without dropping the temperature inside. He estimates the actual energy used to heat the home is about the equivalent of 35 gallons of oil per year.
Marsik is an associate professor of Sustainable Energy at the UAF Bristol Bay Campus and a passionate advocate for reducing use of non-renewable resources like fossil fuels. "In my position I have been teaching people about how to build efficient homes," he said, "and now here I was building a home. I didn't want to be hypocritical so I thought well, I might as well build a home that is aligned with what I've been preaching"
You can read the original article at www.worldrecordacademy.org