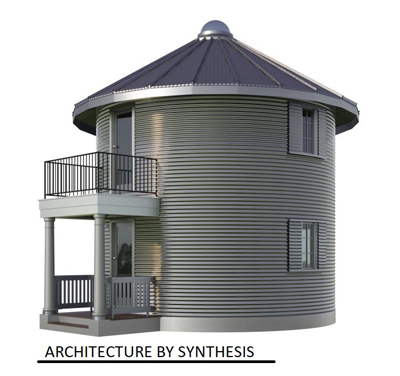 Mark Clipsham has come up with some new plans for affordable grain bin houses. According to Mark, the basic construction of these homes is fast and DIY friendly. There is no concrete foundation wall – the home's wall construction is the same from the footing to the roof. They are monolithic/continuous, field-formed, self-supporting SIPs (no framing in the walls or roof). They outperform traditional construction in every respect (cost, speed of construction, strength, no maintenance, thermal performance, resistance to disasters and typical building failures) by a healthy margin. These are not a compromise but an upgrade. They are built on the same principle as high-performance coolers. The electric and plumbing on the exterior walls are accessible without demolition after they are built. 346 SF per bin per floor.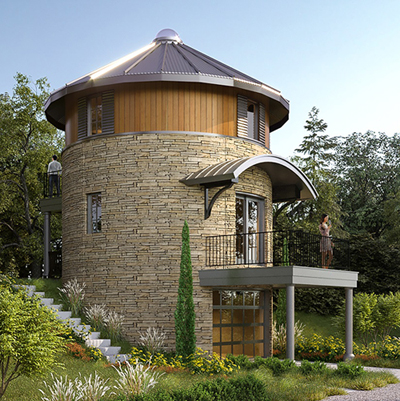 You can dress these homes up or leave them minimal. Or start as minimal and finish them as funds and time becomes available inside and out along with upgrades and additions. These are designed to last hundreds of years. With a floor or two above the main floor there is the opportunity for extended family, rental income or live in healthcare. One plan shows a bedroom on one side and office/entertainment room on the other that can be turned into a guest room quickly and easily.
The "garage" on the lower level can be used for many different things – live/work, family room, party spot, large kitchen, storage, workshop/office, a place to get away and have some quiet time or a combination of these. The deck off the first floor is designed to be waterproof so it acts as a carport or a place to entertain or display outdoors even when raining.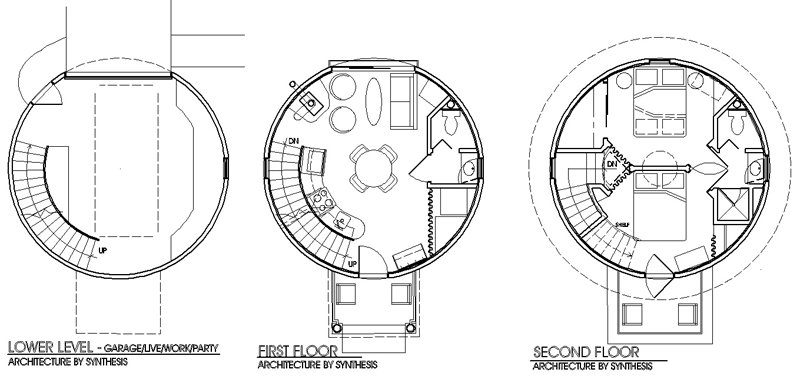 There is an option for using a rocket, traditional or cooking stove to heat a mass couch in front of a bay window in some plans. Window and door cut outs can be used for seriously functional shutters. Standard cabinets can be used with a curved countertop.
You can find out more about these homes or buy the plans at dreamgreenhomes.com