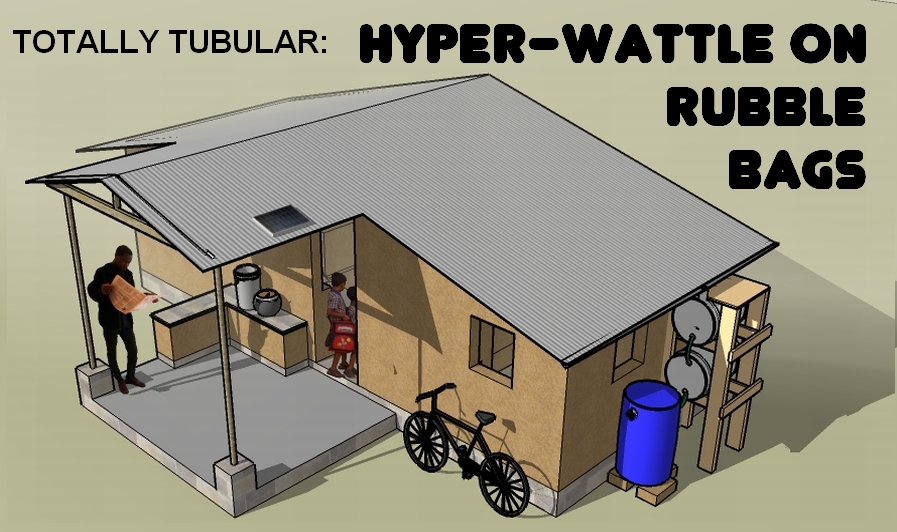 Here's Patti Stouter's entry for the $300 House design competition. Rubble bags on lower walls provide a solid, flood resistant wall. Hyper-wattle provides lightweight insulating upper walls made of mesh tubes. Thin walls conserve space and materials, and take less labor. Her design is one of only a few in this competition that could actually be built for $300 or less.
Patti's project is getting rave reviews. Over all, the jurors have posted very few comments, but RSmith posted this comment: "Genius! I love this concept. You are maximizing the most available resources: Human labor, earth and trash! This is one of the best design I have seen so far! …"
This could very well be a winning design. Please vote as soon as possible. There are only a few days left.
Update: Voting is getting vicious. There appears to have been a coordinated attack against all three of my designs in the last hour. All three designs suddenly plummeted in unison by about 20 points each. I've been cautioning people about some of the drawbacks to other designs and this has likely triggered some hard feelings. If you haven't voted, please help support our designs.

RUBBLE BAGS:
HEAVY BASE WALLS
13" THICK BAGS FILLED WITH RUBBLE OR GRAVEL AND/ OR SAND (OR OTHER MASONRY)
A WATER-RESISTANT FOUNDATION WALL
Low height allows thinner width
Barbed wire between courses for tensile strength
Less expensive than metal gabions
Doubled poly bags for 3"- 4" coarse rubble
Finish with cement stucco
LIGHT UPPER WALLS
8" THICK MESH TUBES FILLED WITH STRAW OR CHIPS, DIPPED IN CLAY SLIP
NATURAL FIBERS RAISED ABOVE WATER AND INSECTS AND COATED IN PROTECTIVE CLAY; R-12 TO R-16
LIGHT CLAY IN PLASTIC MESH TUBES
 NATURAL, SUSTAINABLE MATERIALS
 ADAPTABLE TO DIFFERENT SHAPES
 STRESS-SKIN TECHNOLOGY
 LOW-TECH AND SIMPLE
 USING LOCAL LABOR
 FINISH WITH LIME & EARTHEN PLASTERS