I'm standing on the Community Rebuilds campus. Today they're hosting events for the Natural Building Conference, a gathering of those interested in construction using materials like straw bale, soil and lime mortar… which is being mixed now.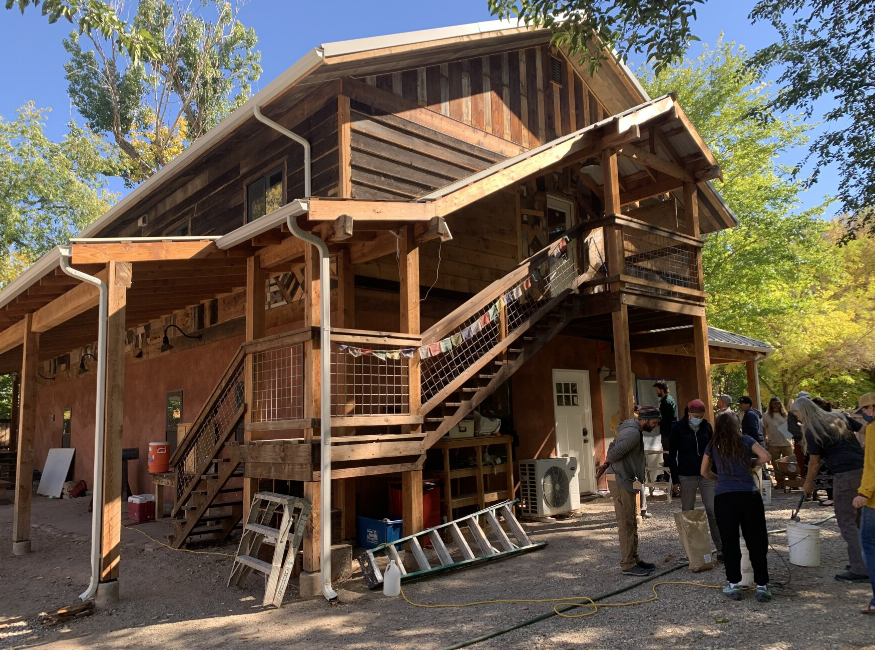 Moab has a housing problem… like other tourist-orientated towns in the region. Amanda Jane Albert is an instructor here.
[Albert]: Housing currently is just unreachable by a lot of folks. There's lots of service workers here. There's lots of seasonal people that come in and leave. But the tourist industry and the second-home situation has sort of raised the cost of living beyond reach for most of the workers in Moab.
Housing that is affordable can be trailers or manufactured homes not suited for Moab's hot summers and cold winters. Her organization solves both problems — providing affordable housing built with material like straw bale that's inexpensive and energy efficient. Their intern program also cuts down on labor costs while training the next generation of natural home builders.
[Albert]: One of the benefits of the program here is that we provide a safe, accessible space for anybody who's interested in construction to come and be on a construction site where it might be intimidating if you're not a typical construction worker to walk up to just some construction site and say, "Hey, I want to learn."
Joah Continentino is an intern from Tallahassee, Florida. He was interested in natural building but it can be expensive to learn.
[Continentino]: Something really special about this program is that they do accept people with little to absolutely no experience and that's kind of unheard of to get kind of a foot into the natural building world without going to school.
Since 2010 Community Rebuilds has built 52 homes. According to the group, those homes cost around $70 per square foot which is about half the normal cost. Homeowners also take advantage of federally-subsidized loans.
I'm inside one of their houses with owner Marie Brophy. She lived in Moab for around five years… car camping her first season and then renting rooms.
[Brophy]: And at that point, it had never actually occurred to me to that I could be a part of the program or that I would ever be a homeowner. It still seemed kind of like a crazy idea to me but I decided to apply.
She's lived in the home since 2018. There's plenty of natural light. The tan walls look like they could be carved from desert rock.
[Brophy]: It's so well designed with the passive solar and the straw bale insulation that I rarely actually run my heat or AC.
The program requires homeowners to volunteer around 20 hours a week in building. But Brophy couldn't keep herself away.
[Brophy]: There were some nights I was tiling window sills until 11pm by little lamplight. It just feels like my home because I got to be such an active part of building it.
Alex Burbidge is a construction supervisor. He points out a picture frame in Brophy's house that provides a window into the straw-bale insulation. It's called a Truth Window.
[Burbidge]: It's a tradition I think in the natural building world, especially with straw bale houses to put a truth window to show people your house is made of straw.
Affordable housing is one thing. But keeping those homes affordable… and finding space for more can also be an issue. Rikki Epperson is the executive director of Community Rebuilds.
[Epperson]: You can build an affordable house and you can sell it to a low income family. But once they sell it, it's forever in the current market, which is completely unreasonable.
Around five years ago a program member sold their home after it appreciated by around 100,000 dollars in only two years. She says a lesson her organization learned was to work with others to keep housing and land affordable and open for permanent residents. For example, deed restrictions can prevent homes from ending up as vacation rentals.
And land trusts can require development for year-round residents. She helped push the planned Arroyo Crossing development which will provide 300 units dedicated to housing for local families and workers.
[Epperson]: Getting everyone together and figuring out how everybody can give a little, or nudge a little or relax a little. Or get serious a little or whatever. It takes a village.
A village that Epperson is helping to build.
This story is part of a collaboration between the Solutions Journalism Network and Rocky Mountain Community Radio highlighting affordable housing solutions across the Mountain West.
You can read the original article at www.ksut.org