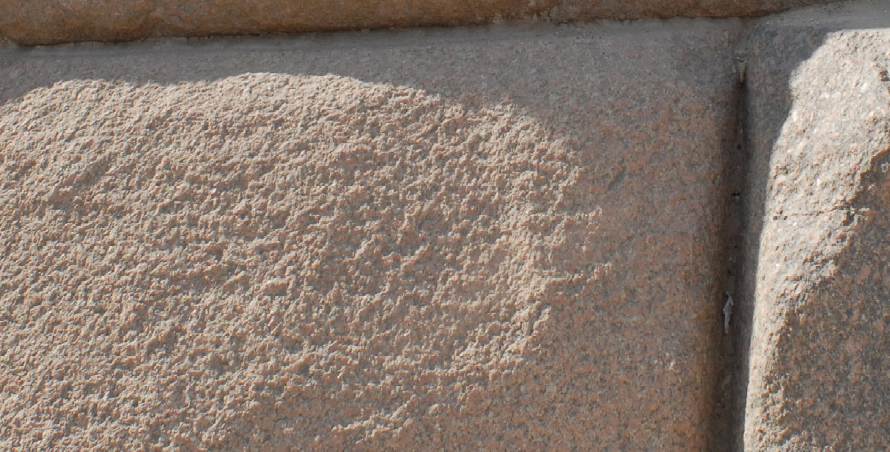 Major Breaking News. Tim, one of our readers, sent me some information the other day that explained how Bill McNulty has patented the process of making cast stone using natron salt (sodium carbonate) mixed with powdered granite, limestone, basalt, schist or sandstone mixed with water. This is a slightly different method than proposed by Professor Joseph Davidovits (see How the Pyramids Were Built). I finally got around to reading some of the literature that Tim sent. The following passage literally gave me goosebumps when I realized McNulty was describing how some ancient stonework may have been cast in bags much like earthbag building. (Note: Whether or not ancient stones were made by being cast in bags is still theoretical. The main point is McNulty's stone making process does work. See comment below.)
"The lower courses of the Menkaure Pyramid were created by casting natron [sodium carbonate] and granite in flexible forms. These flexible forms were made from sturdy cotton or hemp cloth and give the lower courses of the Menkaure Pyramid their distinctive shape. After the flexible forms of hemp or cotton were filled with a natron and granite mixture water was added to turn the cementitious material into a solid block of granite. Cement can be purchased today in a similar form called "sling bags"… [Ed.: McNulty thinks wooden forms were used for the rest of the pyramid.]
Over ten thousand diorite balls have been found in Aswan at the site of an Ancient Egyptian granite quarry. Diorite pounding stones allowed workers to pulverize Aswan granite into a dust which was transported to the Giza Plateau on the Nile River. Aswan granite dust and chips were combined with natron and water to produce the granite blocks of the interior chamber walls of the Giza Pyramids, the granite casing stones of the Menkaure Pyramid and granite statues."
Source: Giza Throne Theory, Bill McNulty, page 12, www.rosetjau.com
From Bill McNulty's patent application: Cementitious material
"A combination of compositions, products and methods of producing a new type of cement. The cementitious material is created by adding sodium carbonate (also known as soda ash, trona, natron, sodium carbonate decahydrate, sodium carbonate anhydrous, etc.) and one or more rocks or minerals selected from the following–granite, basalt, sandstone or schist. A new method and product are claimed by combining sodium carbonate and one or more rocks or minerals selected from the following–granite, basalt, sandstone or schist and water. The combination of sodium carbonate and one or more rocks or minerals selected from the granite, basalt, sandstone or schist group can be either layered or mixed in a dry or wet state. An exothermic reaction starts after the addition of water to the cementitious material. The composition of the cementitious material can vary between 10% sodium carbonate and 90% of one or more rocks or minerals selected from the granite, basalt, sandstone or schist group to 90% sodium carbonate and 10% of one or more rocks or minerals selected from the granite, basalt, sandstone or schist group. Organic or inorganic additives may be added to the mixture to enhance the composition and/or the final hardened product. The cementitious material or products can be used in a variety of applications not inclusive of forming bricks, interior architecture, table or counter tops, ornaments, repairing damaged cement products, casting, bioabsorbable devices, extruded products, sprayed products, filler, grout, mortar, gunnite, moulded products, composites, cast stonework, agglomerated stone, concrete, hardened products, electronics, packaging and other applications not mentioned above."
Inventors: McNulty, Jr.; William J. (Provo, TC)
Appl. No.: 10/199,079
Filed: July 22, 2002
US Patents #6,264,740 and #6,913,645
Note: Tim just won himself a free copy of my upcoming earthbag book. Thank you Tim!
——————————–
How to build cast stone earthbag walls:
So if you've read this far you're probably excited about the possibility of building a cast stone earthbag home and wondering how to do it. I believe I've figured out a simple, cost effective solution; however, I haven't tested the process yet. I recommend using natural fiber bags such as cotton, hemp or linen bags. These fabrics allow water to penetrate. Fill the bags with the necessary dry ingredients in the correct proportions (stone powder and/or crusher fines mixed with sodium carbonate). Stack one course of bags much like regular earthbags, but with dry ingredients. Sprinkle the bags with water until the contents are wet throughout. You'll have to experiment to determine how much water is needed. Tamp the earthbags level. There will probably be a waiting period for the stone to set up and then you can repeat the same process for the rest of the wall.
It's also possible that stone powder, sodium carbonate and water can be pre-mixed and put in earthbags just like moist road base or moist soil. But this needs to be tested, because McNulty says the chemical reaction begins immediately after water is added.
Also note, stone powder and crusher fines are often available from quarries, sand and gravel yards, and concrete batch plants at very low cost. Most people want the more valuable aggregates for use in concrete, etc. Stone powder/crusher fines is a low value leftover material.