Chinmay Pareek of Brzee Studio sent me more information about their natural building projects in India that I recently posted images of here.
Brzee Studio is based in Jaipur, India and wants to break the noxious cycle exploiting Mother Earth and support the shift in consciousness needed to heal our alienation from the natural world. Recent projects are a blend of art, spirituality and community development. With a shared understanding towards low impact living, they and their clients are moving towards being able to offer superior alternatives to conventional building methods.
Lingro Permaculture Eco Retreat, located in Uttarakhand, is a permaculture based sustainable community living and educational center. Their vision is both conserving the culture and protecting the environment. They began with restoring an old house on the property using locally sourced material to cherish the old-world charm of the place.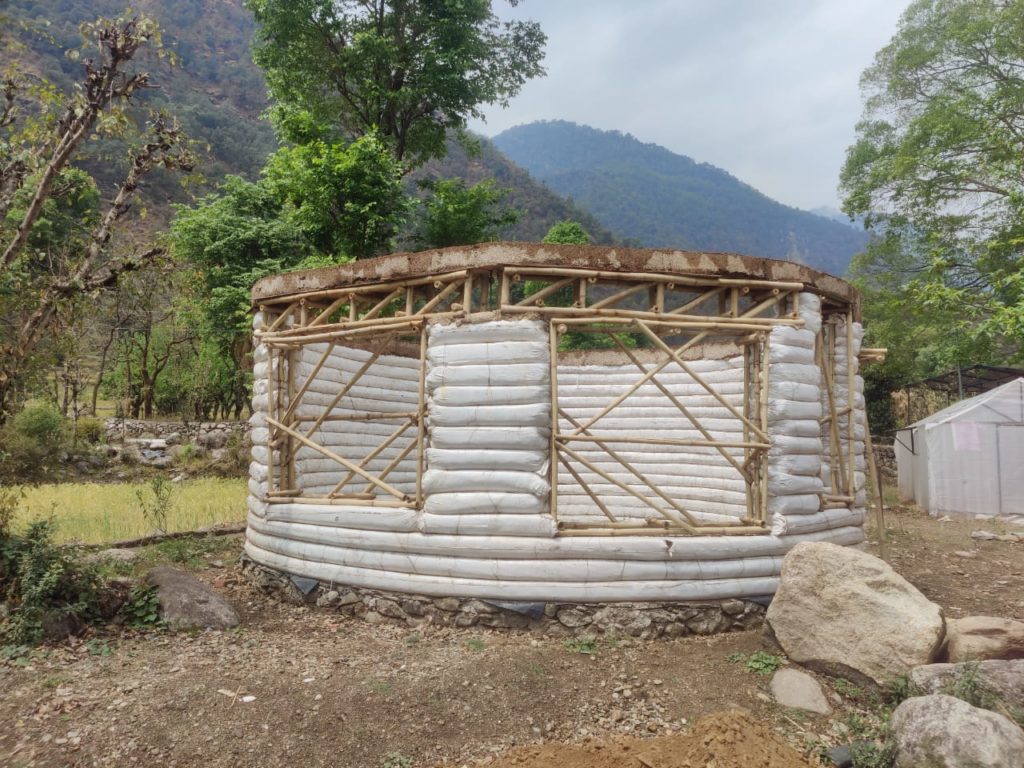 They also built a two story Superadobe with a natural up cycled composite bond beam, without the use of rebar. Aiming at providing an authentic wilderness experience they will be building 5 cozy cottages overlooking the scenic beauty of this farm.
Their next structure, a dormitory for students and guests interested in sustainable agriculture, will be a combination of earthbag and other techniques. A restaurant and natural swimming pool add to the aesthetics of the place making it a lovely off grid eco-tourism destination. A homestead serving as the founder's family home is under construction for which they are taking inspiration from the traditional local Architecture.
The Vinyasa Dance Ashram is spread over a large area on the outskirts of Jaipur. The founder understands that art and nature are two sides of the same coin and he envisions the Dance Ashram as a place which transfuses the essence of Dance with the essence of Nature.
Their vision for this project is to provide fellow natural building enthusiasts a platform to come
together for exploration and experimentation with a variety of new and traditional building techniques. This will amplify the message of responsible lifestyle by providing solutions that are ecological.
They will be building a variety of structures including a 2000 sq ft dance studio, 10 cottages, a dormitory for 60 students, an amphitheater , a reception space, a natural swimming pool, a storage room, a café and an open kitchen.  With these structures they will highlight workshops utilizing techniques like super adobe, traditional cob, wattle and daub, glass bottle and bamboo along with many other methods.
The use of these techniques will provide protection from sun and the strong winds. Inspired by the forest, the ashram will have an abundance of natural light and cross ventilation that lessens the dependency on electricity.
This initiative is a seed that we're planting with the hope to turn it into a fruitful tree.