When visitors to the San Luis Valley in Colorado stay at the Frontier Drive-Inn, they have access to a circle of unique structures that blend ancient materials with modern technology. Cylindrical silos with open air ceilings called Skylos are made out of locally-harvested adobe—sand, silt, clay, water, and straw. Designed and built by architect Ron Rael, they provide a striking addition to the historic drive-in theater.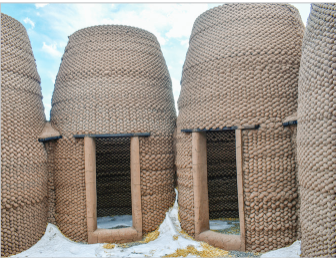 The Skylos are a second test run of experiments in 3D printed adobe buildings completed by Rael, a Valley native who has been developing 3D printing with various organic materials and structures for about seven years. Using materials that are ecological, recyclable, low cost, and easily accessible, he has printed with grape skin, coffee, tea, cotton candy, salt, ceramic, adobe, sugar, wood, cement, bone, and tires.
"We were interested in using 3D printing but couldn't afford the printers or the material," Rael says. "So we hacked a printer and developed our own material using whatever was available." As CEO and co-founder of a business called Emerging Objects and professor of architecture at the University of California Berkley, Rael was inspired to experiment with new materials in response to the housing crisis in the Bay area. He has traveled around the world looking at buildings made of earth.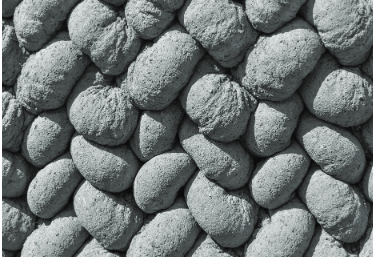 Skylos at the Frontier Drive-Inn feature a basket-woven pattern of organic mud, with cracks, and pieces of straw sticking out. The design evokes a timeless sense of cultural crossover and an immersion into early indigenous architecture.
Six of these structures are grouped together in a circle to form a tight communal area where people can step out and sit beside a small fire pit. It has a very intimate and encapsulated feel. The Skylos were printed from the ground up by two portable 3-axis SCARA (Selective Compliance Articulated Robot Arm) 3D printers.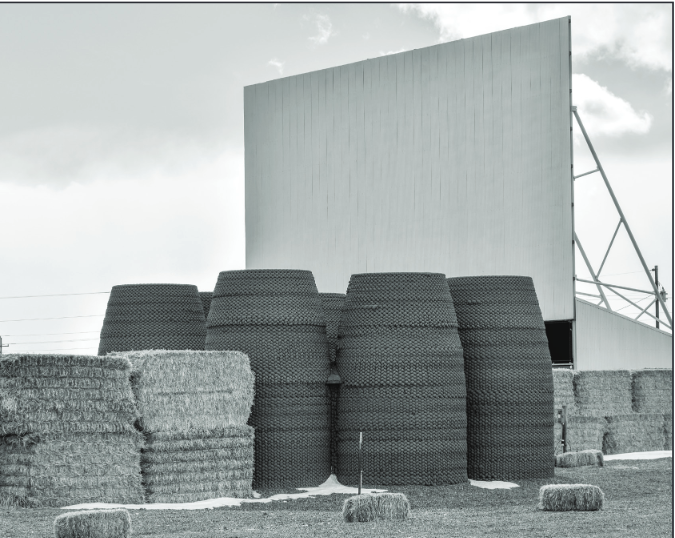 It took Rael two summers to complete the project in 2021-22. The earthen material was mixed manually on site and fed into a mortar pump to distribute out the aggregate arm of the printer, where it then dries and hardens in the sun and wind.
"They did test prints that first summer," recalls Frontier Drive-Inn co-owner Luke Falcone. "After testing various sand mixtures around our site, we found the best version on Ron's mom's farm."
Rael's previous experiments in 3D printed houses include Casa Covida, another adobe structure in the San Luis Valley; Salty-gloo, printed in salt and modeled after an Inuit igloo; 3D Printed House 1.0 in Beijing, made with exterior cement polymer and interior salt polymer; coral reef restoration seed pods in collaboration with Sea Core; and Cabin of 3D Printed Curiosities printed with chardonnay, sawdust, and local ceramic. "Our goal is to make the technology more accessible to people," Rael says. "Most printers use plastic, but we wanted to use materials that are more sustainable, reusable, or upcycled."
The Skylos project was born when Rael and the drive-in's owners connected through friends and discovered a shared interest in exploring housing alternatives. Frontier Drive-Inn, built in 1955, was purchased in 2016 by the Falcone family. The family's intentions are to cultivate a cultural art gathering space with performance, music, art, food, and local collaborative community relationships.

This article was originally published at crestoneeagle.org
See naturalbuildingblog.com for a related story.