Superior Sandbag System, an erosion control firm in Orange County, CA, have a new tube filling machine that fills continuous polypropylene tubing. So far it's been used for erosion control, but it could be utilized to mass produce affordable housing. Steve Villa and Steve Williams, the owners of Superior Sandbag Systems, invented the process and received a US patent in 2000.
Sandbag material is available in 6,000-lineal-foot rolls. The Superior Sandbagging hopper can fill 240 feet of bag at a time without stopping. A two-person crew can fill and place 240 feet of tubing in 90 seconds. I can imagine this working very well on domes and roundhouses, where the machine drives around in a circle. Pneumatic tampers could probably keep up with the tamping. I hope they do some experimenting with this in their spare time and let us know the results.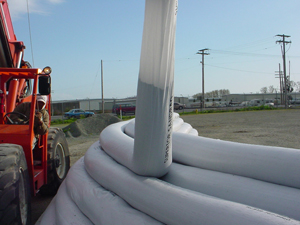 Special thanks to Steve Davis for finding this bit of news. Steve maintains an extensive list of links on alternative architecture at Sandbag Architecture Links.