I recently got this email from Steven Green:
"I built a 10 meter earthbag roundhouse with the open air patio in Chaing Rai, Thailand. I bought the plans from Owen Geiger. In the cold season it is OK, a bit stuffy but warmer than outside. But now I'm suffering in the hot season. In the day it reached 100 degrees but it is cooler at night… but unfortunately I'm not able to enjoy this coolness because the house stores all the heat of the day.
I got a sheet metal overhang on the first level and a sheet metal roof on the patio, and the walls are rendered with lime stone plaster. However we poured concrete for the roof/ceiling so I guess that was the mistake. I tried a ceiling vent and a wall vent… nothing but hot air blowing around. I have louvered windows above each door and window… don't seem to do anything at all.
I'm a bit depressed… all this work at a big cost (much more than anticipated) in the land of smiles… to be suffocated in my own house at night and day when I close the windows. Right now it's 5 am and the air is cool and fresh, but I have to go outside to enjoy it, so I'm still homeless even with a home. Do I really have to buy an aircon unit to survive here? That would defeat the whole purpose of the earthbags, right? Any useful ideas?"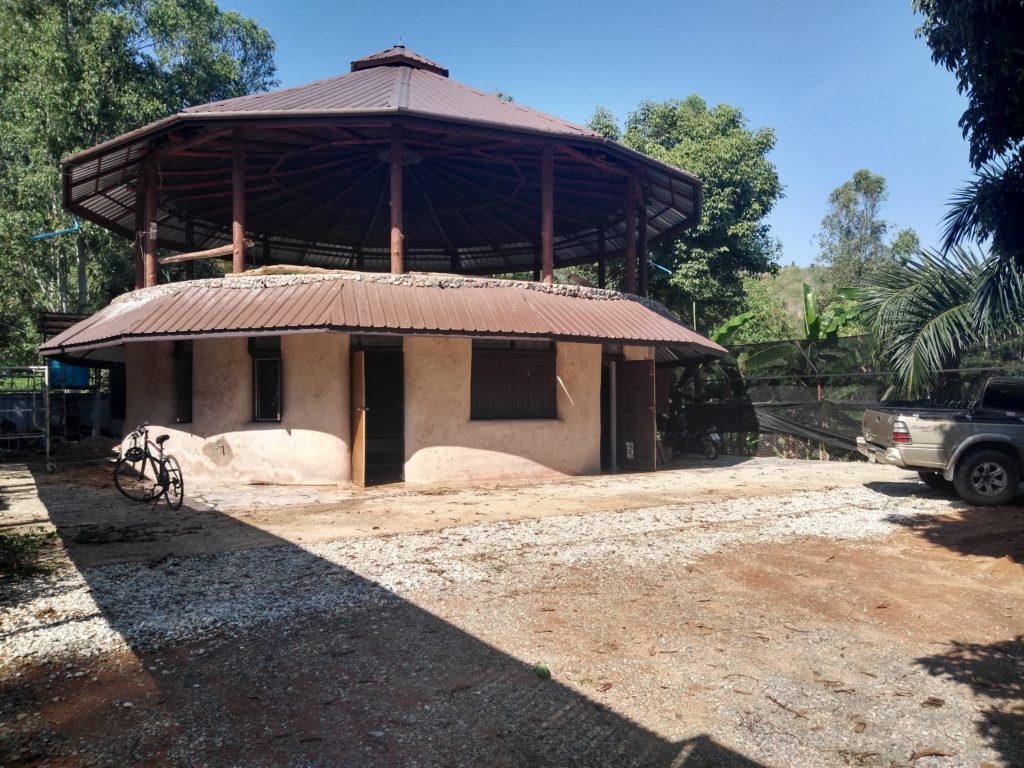 So I answered, "What you describe is the classic result of building a solid thermal mass building in a climate with temperatures that get too hot too much of the time. The only real way to fix this is to insulate the house on the outside somehow. Then it will be the most comfortable house in your neighborhood. I live in a old adobe house that I insulated on the outside and now it is extremely comfortable all year round. I'm not sure what is available in Thailand to do this, but it would be the best solution to your predicament."
Steven responded, "It sounds like a good idea, but I have 3 doors and 7 windows; shall I just insulate around the doors and windows? OK, I guess the overhang that keeps the walls shady all day is a no go because the heat creeps up underneath them. 109 F. real feel today. What can I put in the bags if I build another wall outside the existing one?"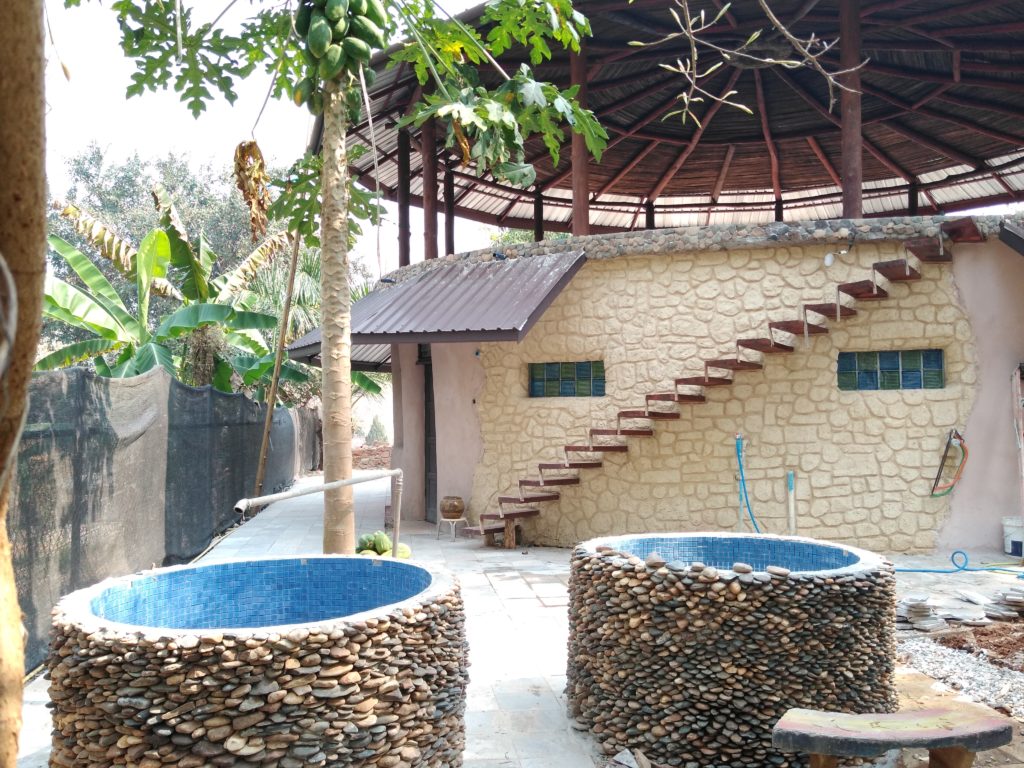 Then I wrote: "Yes, it is mainly the bag walls that need to be insulated; insulating the doors and windows to some extent could also help."
"I just looked up the average annual temperature in Bangkok and it is 85 degrees F., so your walls have probably settled to about that temperature, or perhaps warmer in the warm season. Since it cools down during the night, you can open the windows to ventilate the house at night and close it up during the heat of the day, and that might help. Otherwise, your only other recourse would be air conditioning to cool the space down. If you resort to this, at least the insulated thermal mass walls will make it much more efficient, because they will hold the cooler temperature."
"There are some ways to passively cool a living space through the use of passing air over pools of water, but this only works in fairly arid climates and I expect that Thailand is too humid for evaporative cooling to be very effective.""Possible Insulating earthbag fill materials include rice hulls, lightweight volcanic stone, shredded styrofoam, and perlite."
Steven responded: "It's brutal here.100 degrees really feels like 109 degrees, with no air movement…  very very humid. And to make matters worse, they burn plastic and leaves roadsides, mountainsides, and more. I am in the house right now, I had to leave my bedroom and move the mattress to other side of house. All doors are open and all windows are open, all louvered windows above each door and window are open.  I have 4-5  fans running now and nothing helps at all… it is so hot here.  And let me tell you if I walk outside it's a lot cooler than it is inside my earthbag house. Any more ideas?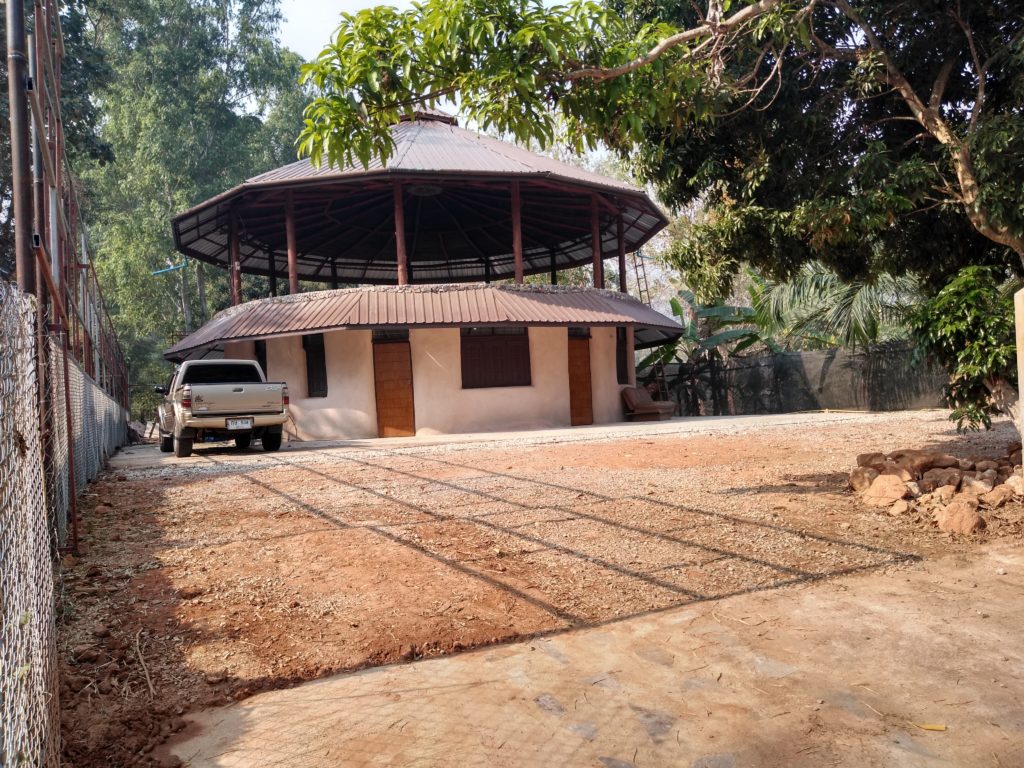 So I wrote, "I still think that what I outlined earlier is your best bet, although it could take months for the mass walls to cool down much. Your house looks beautiful, by the way."
If anybody else has any advice for Steven, he might appreciate it.