I came across this unique concept that the designers claim will "restore our climate to pre-industrial conditions." This is a lofty goal that is certainly worthy of attention. It is based on a building they call the EnviroPlex™, that is "a multi-purpose, modular, high-tech installation combining organic food production and pollution-free energy generation with direct-air carbon capture and sequestration. It is a one-acre (45,000 sq ft) carbon-negative mass-producible building with three main components: Barn/Factory/Market, Greenhouse/Vertical Farm and Multi-Use Pavilion. It runs on renewable energy: sun, wind, water, geothermal, etc."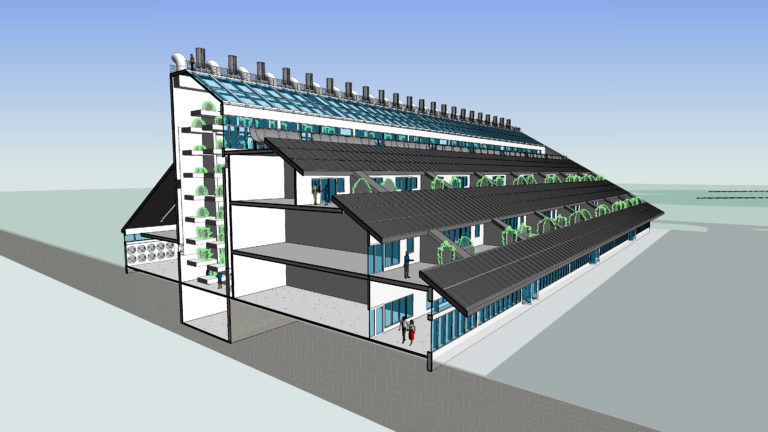 The EnviroPlex™ captures CO2 from the atmosphere using a combination of photosynthesis and the proprietary mass-produced Carbon Capture Module™.
It filters out gaseous air pollutants (nitrogen and sulphur oxides, ammonia,  carbon monoxide, etc) and airborne particulate matter such as coal and wood smoke, smog, exhaust fumes, diesel soot and other PM2.5 materials.
It's an organic farm and farmers' market. Using photosynthesis, it converts captured CO2 into healthy vegetable produce for human and animal consumption.
It chemically removes atmospheric CO2  by converting it to a climate-safe water-soluble compound, which can then be converted to valuable derivative products such as soil additives, building materials, fuels, and carbon-fiber composite materials for 3D printing.
It's a factory and research laboratory, developing marketable derivative products from the captured carbon.
It improves the living conditions of occupants and workers.
It provides employment for local community members.
In hot, dry weather, at no additional cost, it provides evaporative cooling, a climate-friendly alternative to air-conditioning.
In addition to the farm-related components, each EnviroPlex™ provides a healthy 22,500 sq.ft. clean-air indoor refuge which the owner/developer/community can utilize in a multitude of economically-valuable ways: shopping mall, convention center, college campus, business complex, light industry, corporate headquarters, elder care, hospital, residential, etc.
As far as I can tell one of these has yet to be built and tested, so much of this must remain hypothetical. But I am glad that people are thinking in such hopeful ways to deal with our situation on Earth.
You can read much more about their concept at circularcity.us