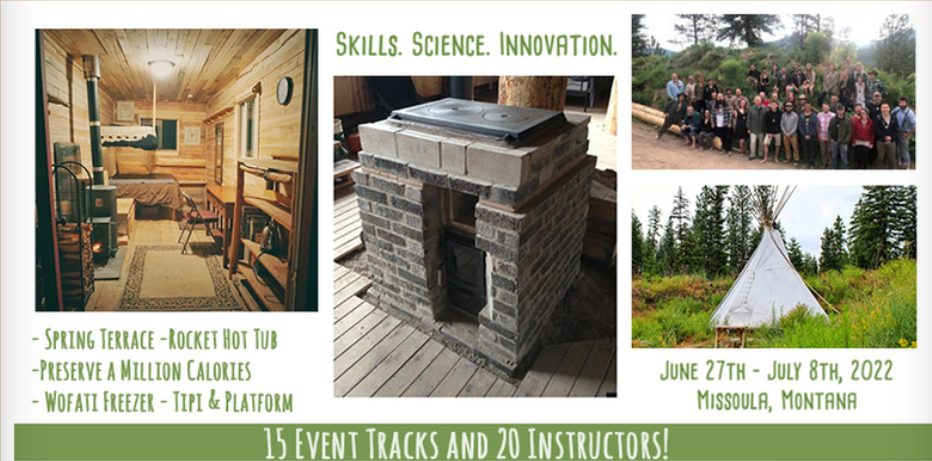 This event has multiple purposes:
collaboration, experimentation and innovation to move permaculture technology forward
experiences for people new to permaculture technology
building homesteading skills
The Jamboree Format:
Attendees can wander among all FIFTEEN of the tracks and participate or observe as much or as little as they like. The instructors will see a project to completion either with or without help.
Below is the rough outline of the events planned so far:

TRACK ONE – ROCKET:
Building a Rocket Hot Tub
See design thread HERE
Building a 8″ Rocket Engine and Adding a Kiln
Building a Rocket Oven in an Outdoor Kitchen
Building a Rocket that Generates Electricity
TRACK TWO – Natural Building:
Build Cob Sinks and Showers
Create Homegrown Mushroom Mycelium Panels
See design thread HERE
Install a Yurt – Complete with Platform!
Make Homemade Cement from Wood Ash
Make Natural Plasters & Paint
Create Sheep Wool Insulation
Make Felted Walls for Insulating a Space
TRACK THREE – FOOD PREP, PRESERVATION & PROPAGATION:
Preserve a Million Calories
Store food for winter without electricity (6 ways)
Stock a root cellar for 20 people for the year
Make Pottery from Clay Harvest on Site
Build a Hugel and Plant it!
TRACK FOUR – Spring Terrace:
​Create a Spring Terrace: shape dry land to be able to extract 400 gallons of water per day
See design thread HERE
TRACK FIVE – APOTHECARY:
Build a Robust Apothecary
Make a Tincture
Create Salves
Dry and Store Teas

TRACK SIX – BODGER:
Build a Log Picnic Table & Bench
Build Log Bunk Beds
Build a Skiddable Bodger Shed
Build a Shaving Horse
Build a Three Log Bench
& More!
TRACK SEVEN – TEXTILES:
Make Window Quilts
Create a Spinning Wheel from Used Bike Parts
Make a Pine Needle Basket
The Big Shade Project
Weaving a Rug or Blanket
& More!

TRACK EIGHT – TECH:
Add Permanent Solar to a Tiny House
Electric Tractor Hayride Tour
Heating Water with the Sun without Needing Winterizing
Pedal Powered Devices
Install a Heliostat
Fire Up a Solar Glass Recycler
& More!
TRACK NINE – EARTHWORKS:
Install a Passive Garden Heater
Build a Holzer Root Cellar in a Day
Natural swimming pool

TRACK TEN – SKIP:
A track dedicated to the "Skills to Inherit Property" program
Build a Basic Birdhouse
Create Wood Burned Sign
Build Kindling Crackers
Create a Tool Handle
& More!

TRACK ELEVEN – HOMESTEADING:
Make Seed Balls
Plant a Living Fence
Build a Nice Birdhouse
Foraging
Make Twine
Bake Bread in a Rocket Oven
Make wax Cloths / Lunch Kit / Jar cover
Create Public Art
& More!
TRACK TWELVE – DRYSTACK :
Build a Drystack Moongate
Create Drystack Stairs
A Drystack Wall to Protect a Fruit Tree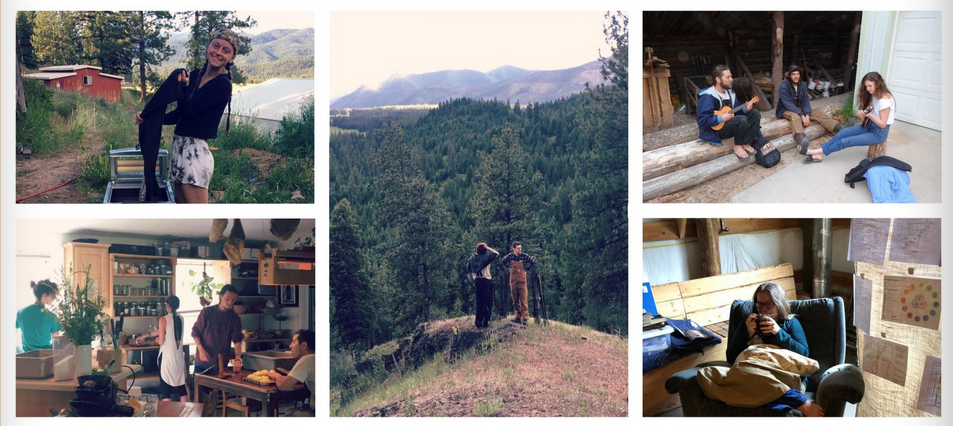 TRACK THIRTEEN – Wood Working :
Build a Pavillion
Build a Round Door
See design thread HERE
Make lumber on the sawmill
TRACK FOURTEEN – WOFATI
Build a Freezer Wofati
Work on different Stages of a Wofati
TRACK FIFTEEN – BEE TRACK  See design thread HERE
Build a Few Hives
Build a Swarm Trap
Extract Honey
Log Beehive Shelter
Build a Log Style Beehive
& More!
For more information and to sign up see permies.com