We have a new complete project page up at www.earthbagbuilding.com: the Amirta – Divine Nectar Retreat Cabin in the high desert of southeastern Arizona. To do this retreat Venerable Lobsang Gyelse had to build a space to do it in, which is a small circular meditation space with an offset sleeping nook. In addition there is a covered porch area. Kitchen and bath are in a nearby building.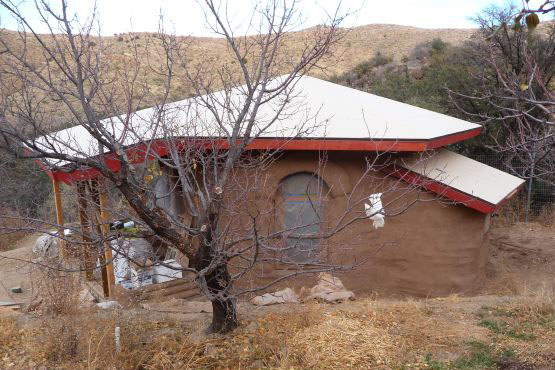 This project is well worth studying because not only was it well conceived and executed, but it was very well documented. Furthermore this project was fully permitted and inspected by the building authorities in Arizona.
It has a rubble trench foundation with a reinforced concrete grade beam above. It also has a reinforced concrete bond beam at the top, to which a conventionally framed roof is attached. The project was kept as natural as possible, with earthen plasters inside and out, an adobe floor, and cotton batt insulation.
This retreat cabin is a perfect example of what can be accomplished in a short time with the efforts of a community of people. I'm sure that Venerable Lobsang Gyelse will have a wonderful three year silent retreat in this space.