Jerome Osentowski, the founder of the Central Rocky Mountain Permaculture Institute is known the world over as a gardening guru. But now he is facing a challenge from a pest he never anticipated: zoning.
Around Colorado's Roaring Fork Valley, the legend is well-known: An eccentric old man living on Basalt Mountain had grown bananas at 7,200 feet. And from a patch of rocky hillside, perched precariously above a cliff, this gardening guru hadn't only grown bananas; the lore suggested he'd brought to life all kinds of plants that seemed impossible to cultivate in the Rocky Mountains, including guavas, papayas, dragon fruit, grapes, figs, and passion fruit. He says he has about 10 different citruses.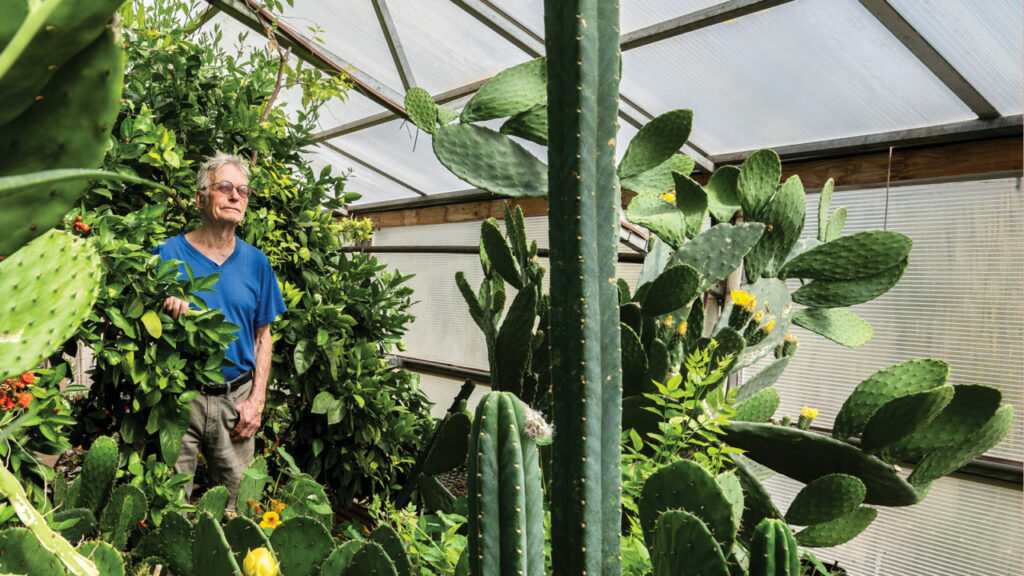 Ostenkowski, now 81 years old, relies only on solar power, and sometimes compares himself to a survivalist. "We're kind of the ultimate preppers here," he says. "I look at this as a kind of ark—but Noah just had two of everything. We have 10 of everything."
He is certainly right when it comes to plant life. Between his tropical- and Mediterranean-climate greenhouses and an outdoor food forest—where a cornucopia of fruit trees and herbs thrive—his property is a high-country Garden of Eden, teeming with so many plant species that his land may hold the largest diversity of edible species in all of Colorado. "Everything we have here has multiple yields," Osentowski says. "We have these plants here to teach people."
Osentowski has done plenty of that educating himself, having overseen the longest-running permaculture design course in North America as part of the Central Rocky Mountain Permaculture Institute (CRMPI), a nonprofit he established in the early '90s, with its headquarters on his property. "We're looking at native ecosystems and asking: How do they survive for millenniums?" he says. "Every plant and every tree has a story."
He's considered a pioneer of permaculture worldwide and has taught classes and presented at conferences in places like Nepal, Australia, Argentina, Cuba, and Puerto Rico.
Complaints to Eagle County officials around issues such as traffic, construction permits, and perceived fire danger at CRMPI have drawn the attention of various government departments, and now the nonprofit's future is in jeopardy due to a bureaucratic banality: zoning.
It's a saga years in the making and has pitted the longtime plant whisperer against county land-use codes. After more than three decades of running CRMPI, he finds himself battling a tangle of fees and red tape that may be his and his beloved nonprofit's undoing. It also raises a slew of questions: What will become of Osentowski's institute if the county moves against him? And what does the uncertainty around Osentowski's property mean for his one-of-a-kind food forest—and his legacy?
In 1975, he paid $13,000 for nine acres, a secluded spot to build the proverbial cabin in the woods. At the time, the 34-year-old didn't know much about gardening and nothing about permaculture, but he planted a few root vegetables anyway. His first attempts failed miserably.
But he studied with a permaculture designer at the Aspen Community School, and began to unlock many of the discipline's secrets—such as enriching soils in raised beds and planting species that work symbiotically with each other—that would enable edible plants to flourish on Basalt Mountain. The concepts fascinated Osentowski enough that he signed up for courses with Bill Mollison, who, along with David Holmgren, coined the term "permaculture" in the '70s. The two Australians rejected modern industrial concepts such as constant growth and reliance on nonrenewable resources. Much of what they espoused had been practiced by various Indigenous peoples for millennia.
Inspired by the nascent movement, Osentowski decided he'd give gardening on Basalt Mountain another try. He even constructed a 60-foot-by-22-foot greenhouse and named it Pele, after the Hawaiian goddess of fire, who he hoped would keep his plants warm. In Pele, Osentowski also engineered a prototype of something for which he'd later become famous: a so-called climate battery. Basically, the device consists of an underground system of plastic tubes connected to fans that suck the hot, moist air from the greenhouse atmosphere and distribute it beneath the soil. Thanks to this innovation and others, the plants thrived, and Osentowski's timing was such that he became a central player in a mixed green salad revolution.
Word about Osentowski's successes with permaculture spread around the Roaring Fork Valley—and then outside of it. The more people heard about it, the more they asked if they could come learn. The demand to understand the gardening guru's floral formulas inspired Osentowski to begin teaching classes in 1987 and ultimately offer his now well-known permaculture design course, which covers topics such as soil building, greenhouse maintenance, and water-capture technologies.
Osentowski's longtime friend Michael Thompson took the course himself and  was impressed by Osentowski's innovations, including the subterranean air system. The architect eventually entered into a greenhouse design business partnership with Osentowski called Eco Systems Design; it was Thompson who coined the term "climate battery." Over the past 21 years, they've given back to the community by helping design gardens and greenhouses at roughly 60 percent of the schools in the Roaring Fork Valley and have taken on more than a hundred commercial greenhouse projects in Colorado and around the world.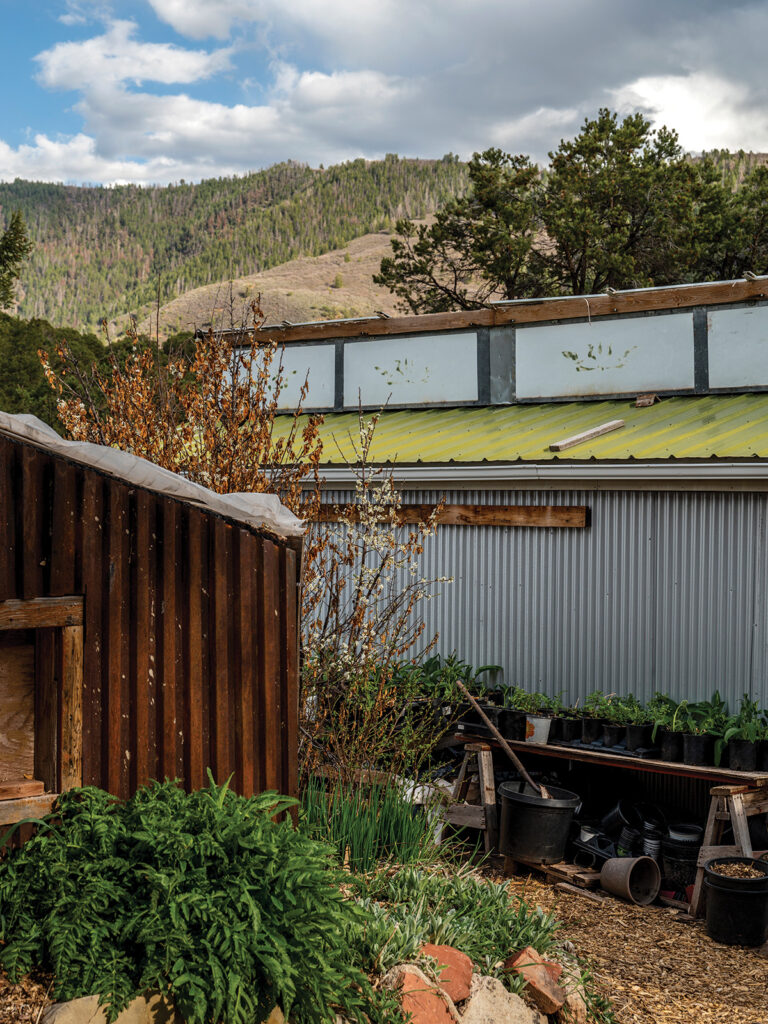 But life at CRMPI has not always been rosy. At around 3 a.m. one night in October 2007, Osentowski woke up to the smell of smoke and found flames erupting out of the top of his beloved greenhouse. By the time firefighters made it to his property, Pele was in ruins. "It was said to have started in the flue of the sauna," Osentowski says of the fire, referring to a wood-burning sauna he'd attached to one end of the greenhouse. "But I think it could have been arson. People have been trying to get rid of me for a long time."
Over the years, the institute has drawn several thousand people to its greenhouses and edible food forest, many of whom have camped on the property in order to spend more time learning on-site from the man who can grow almost anything at elevation. It's the comings and goings of the permaculture-curious on one of the area's main roads—a winding, treacherous drive with heart-pounding drop-offs and few places to pass vehicles—that have sometimes led to altercations.
Osentowski says he's tried to make nice with his neighbors—inviting them for tours of his land, giving them fresh produce—but anyone who's spent enough time with him knows that Colorado's godfather of permaculture can come off as prickly. Some of Osentowski's students and volunteers half-jokingly refer to him as a thistle: He's resilient and hardy, as evidenced by how he replaced Pele with a better greenhouse after the fire, but he can sometimes poke or sting with his words. In 2018, one neighbor felt she'd been pricked enough by CRMPI's existence that she filed a written complaint with Eagle County administrators.
The complaint, which referenced possible nonpermitted construction activities, put CRMPI on the radar of Eagle County's planning department; its property inspectors subsequently found a litany of issues. As Thompson puts it, when Osentowski built most of the structures on his property and established CRMPI, "it never even crossed his mind that he should be looking at the Eagle County land-use code."
Osentowski says he has since spent more than $250,000 on new construction, engineers, and consultants to get his property up to code—including doing electrical work and improving emergency evacuation routes in case of a fire. The most frustrating expense of all, though—and the biggest insult to Osentowski—has been having to justify the very existence of CRMPI within Eagle County's zoning code. Because CRMPI teaches classes and hosts a campground in a residentially zoned area, Eagle County officials told Osentowski he needed to apply for a special-use permit if he wanted to continue those activities. As guidance, the planning department recommended he apply for a resort recreational facility permit, because it was the closest classification they could find in their zoning code. Osentowski begrudgingly hired a consultant to prepare the application.
After years of delays due to the pandemic and county staffing issues, he finally got a chance to make his case to the Roaring Fork Valley Regional Planning Commission on July 21. Before a packed room in the Eagle County Courthouse in El Jebel, a consultant explained how CRMPI had accommodated every county request it could and laid out a plan for how CRMPI would prohibit campfires, import port-a-potties, and use shuttle buses to reduce vehicle traffic.
Before the commissioners made a decision, they opened the floor to public comment, and a rather remarkable scene unfolded. Over three hours, dozens of community members spoke in favor of CRMPI, including the former Aspen Mayor.  Some commenters asked the planning commission to be less rigid with its zoning code. Others focused specifically on climate change and explained how, in these tenuous times, humanity needs more sustainable, zero-waste farms like Osentowski's.
As dusk fell, the wave of support swelled on, backed by more than 100 letters submitted championing CRMPI. In the end, the planning and zoning commission was not swayed. By a 4-1 vote, the commissioners denied the application, citing inadequate road access and evacuation plans, as well as general incompatibility with the surrounding neighborhood.
Being denied a special-use permit would mean he could no longer teach in-person classes on his property—his financial lifeblood—or host volunteers on-site. Any retirement plans he once had, including living in the tropics for half of the year, would have to be put on hold.
By the time the county commissioners met, he'd prepared for the worst. He listened while officials, aggrieved neighbors, and permaculture allies all argued the finer points of CRMPI's special-use permit. Almost three hours into the proceedings, the county commissioners broke for an executive session. When they returned to the dais, something unexpected happened.
"I think CRMPI clearly provides a public benefit to residents and visitors," said Eagle County Commissioner Kathy Chandler-Henry. "We have grave concerns about climate, the heating up of the planet, and the food insecurity around the world. And I think that this is a benefit not only to Eagle County, but to a much broader region."
With that, the three commissioners said they were prepared to approve CRMPI's application if Osentowski agreed to meet 18 separate conditions, including improving evacuation routes and prohibiting campfires on his property. Finally, it seemed Osentowski's bureaucratic woes were nearly over. But always the thistle, there was one condition the permaculture guru would not agree to: that the permit be tied to his ownership of the property.
"Part of permaculture is being able to turn [things] over to the next generation," he told the commissioners. "The education continues beyond me." The commissioners, clearly not expecting an 11th hour request to extend the permit beyond Osentowski's stewardship of CRMPI, said they couldn't trust that a future owner would honor their conditions, and tabled the vote until later next year.
While he could start the whole bureaucratic process over, retooling a special-use permit application under a different designation, he's not sure he has the heart, the cash, or the strength to pursue that at his age. And the meetings haven't been all bad. "I felt validated that my life's work was appreciated," he says. At the same time, Osentowski's future—and the future of his food forest—remains blurry. Until the final vote, all he can do is stay grounded in what's always spoken to him: his plants. "The land knows you," he says, "even if you're lost."
You can read the original article at www.5280.com