What could be more basic to life on Earth than mud and straw? The dirt beneath your feet brings forth grasses that become straw. When you combine these two elements with loving care you can create an enduring beauty that will thrill your soul, and a home that will embrace and protect you. We have been experiencing a renaissance in the use of natural materials for building throughout the U. S.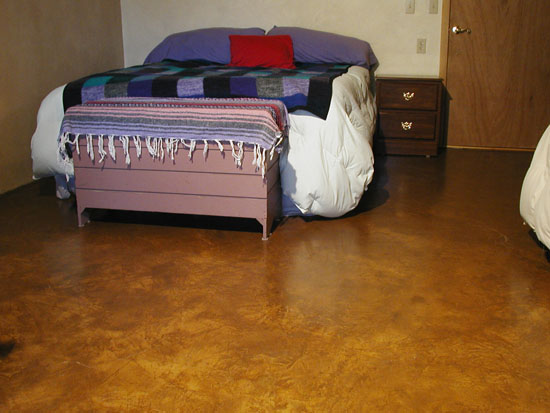 To make an earthen floor you need to add about 25% of finely screened clay to 75% sharp sand or crusher fines, with enough water to make something the consistency of a thick cake batter. Once this is thoroughly mixed, then several handfuls of chopped straw (several inches long) can be mixed in to help bind the material together and give the final floor some beautiful flecks of gold if desired.
This wet mixture is poured over a prepared base of thoroughly tamped road base (gravel and sand). The layer of adobe can be as thin as about ¾ inch, but usually it is more like about 2 inches. The first stage of pouring an adobe floor is similar to pouring concrete, where the wet material is roughly screed to get it uniformly level. With concrete, however, you must do all of the finish work within a few hours, before it sets up. With adobe the curing and finishing process can go on for weeks, or even months.